Below are just some of the victims from the crisis facing these kind creatures.

About Gober & The Twins:

Gober is an elderly Sumatran female orangutan who went blind due to age-related cataracts. When she began raiding farmers' crops, villagers asked SOCP to remove her from the site. Gober entered the quarantine centre in November 2008. Kept alone at first, in 2009 she was gradually introduced to another blind orangutan, a male named Leuser. Unexpectedly, Gober fell pregnant and in February 2011 delivered healthy twins – a male and female. The male's name is Ganteng (meaning "handsome") and the female is Ginting (a common family name from the local quarantine area). The infants are thriving under Gober's care and she's doing a perfect job of rearing them. In 2012, following a surgical procedure on her cataracts, Gober's sight was partially restored!



About Jambo:
Just two days after the rescue of Cinta, a van pulled up to the gate of BOS Nyaru Menteng. One of the passengers was carrying a tiny baby orangutan. He claimed to have found the baby when he was out with his hunting dogs. The dogs ran towards the mother who quickly disappeared behind the trees. The man grabbed the infant who, he claimed, she'd left behind… Orangutan mothers NEVER leave their babies! The tiny little guy, named Jumbo, is now in BOS Baby School with his new best friend Cinta.
About Linus:
Linus arrived at the Center for Great Apes in 2006. When he arrived he could barely walk, trembling constantly and becoming winded from the slightest exertion because lack of exposure to sunlight in his garage cage for years, and limited space for movement and exercise. His hair was matted with pounds of feces, and it took caregivers many months of effort to groom him through the mesh and cut out the mats. Yet Linus was patient and gentle.

When Linus stepped outside into the sunshine for the first time at the sanctuary, he turned his huge face up to the sky and stared. As he gained more space outdoors, he learned to lumber around his enclosure, make his way into the chute system, and eventually climb to the top of his dome.

Linus is now fascinated by textures, particularly fabrics, and he also hoards paper products such as cardboard boxes, paper bags, and wrapping paper. Every time he moves indoors or outside, he carefully gathers up all his blankets, boxes, and bags and carries them with him wherever he goes.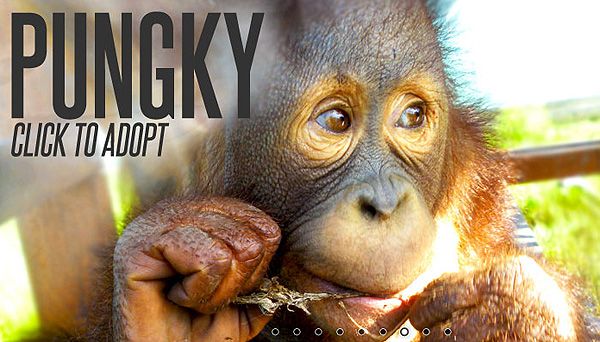 About Pungky:
Pungky loves climbing high into the trees, swinging from side to side from the top branches and doing stunts. When he gets anxious or nervous he chases his babysitters, creating remarkable speed by rolling over like a wheel, and trying to bite them on their ankles! When he can't catch them he sits down and makes little squeak sounds. He's quite content playing by himself, but he also loves spending time with his friends Melky and Mimi.